Spooky Scary Skeletons
is done.
Done like a gun on a platypus bun.
And it has a good score.
Actually this has been a pretty damn good week. My paycheck was HUGE. I finished Skeletons. I sold two posters on my Zazzle thing.
And best of all, a Pollo Tropical opened somewhat near me. On Waters Avenue, a Pollo Tropical now resides. There used to be a much closer one, but not long after the day it "ran out of chicken" it closed down, and I was certain I would never see one again unless I went to Miami where they are abundant.
Basically, Pollo Tropical is a chain of delicious spanish food restaurants. No, not mexican. You will find no tacos or chalupas here. Food filled with the flavors of the Dominican and South America. Fucking delicious. It's one of those things I think all tourists who come to Florida need to eat at and experience. Also, the food is cooked on a massive barbeque grill right in front of you.
My father and I had been looking for a Wild Wings Cafe that was near the movie theatre when we saw the Pollo Tropical.
Having spent the first few years of my life in miami, my family and I had eaten there alot. For those who havent seen the like...1 photo of me online, I am of spanish descent. I grew up eating spanish homemade food, and have always had a love for it.
So my father and I went there and ate so many platanos and delicious spicy chicken and scrumptious yellow rice.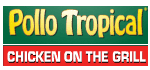 Spanish food restaraunts in tampa are numerous, but most are cuban style restaurants and diners. We have an authentic mexican dinner restaurant though called Vallarta's. I am there quite a bit for very good very cheap food. Often I will attend with my father and brother and we'll gobble up stuffs while we laugh at the "Weekly Planet" local newspaper...well actually its gone back to being called "Creative Loafing" which was always a better title anyway. Weekly Planet sounds like a Superman-esque artificial news emporium. Creative Loafing is more accurate. Its what the paper is about. Odd reporters and people from around tampa writing odd and informative articles about all the interesting crap that happens here.
I particularly like the section that Hollis Gillespie writes. She's new to the Creative Loafing team I think. Her articles have only started appearing recently. Needless to say, she's funny as hell. Her stories she types manage to cram so much brain candy into a small space. They always make you laugh and give you something to think about.
Creative Loafing is one of those things where I've wondered about submitting a comic to them, but I lack the balls to do so. :S
Anyway.
So yeah. Now life can return to normality somewhat. I can work on polypeptide again. I can talk to Wally online again. I can make art at random and post it on this blog again.
Anyway, with skeletons done, I am gonna upload some of the painted backrounds I did for it.
Enjoy I suppose:
Eventually I am gonna make a gif of the little dancing skeleton who sort of "starred" in the later half of the cartoon.